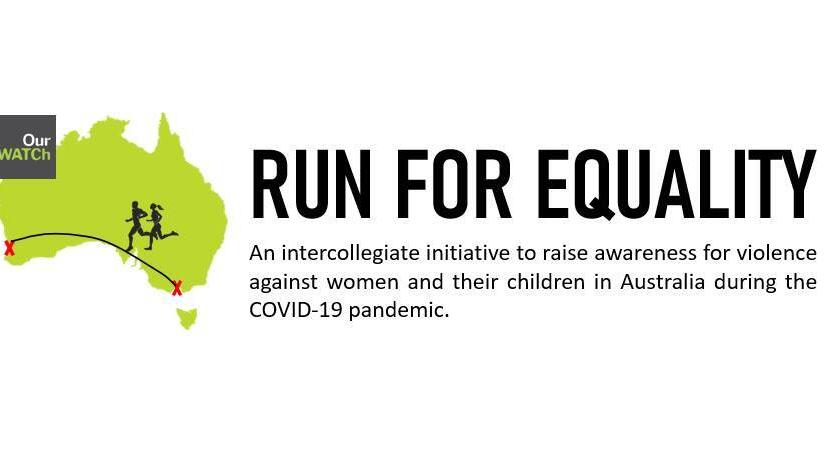 Melbourne to Perth: College Run for Equality
3418km. That's the distance between Melbourne and Perth. It also happens to be the distance that students at each Residential College at the University of Melbourne have been challenged to run in order to raise money and awareness for family and domestic violence. With the COVID-19 pandemic leading to an increased number of police requests for assistance in cases of gendered violence, students from Queen's College decided to highlight the issue in the community, while also encouraging a friendly sporting competition between the colleges.

We're challenging you!
Try to mark off as many squares on the challenge board as you can. The Iso-Challenge will encourage you to keep active, try new things, and stay connected!
Share yours on social media and tag @melbunisport on Instagram, and @MelbUniSport on Facebook

Tell us and win!
Tell us how you have stayed connected through isolation for your chance to win a $50 Uber voucher! *Competition closes 5pm Friday 5 June 2020
All data collected by Melbourne University Sport is in accordance with the University of Melbourne's Privacy Policy. For more information about the University of Melbourne's privacy policies, click here.
Promotions and Competitions
The Push-Up Challenge
Starting next Monday 11 May, MU Sport will be participating in The Push-Up Challenge! Join in to help raise funds for mental health issues, which are more important than ever during these uncertain times. It's also a great excuse to smash out a few push-ups every day!
With the Tokyo 2020 Olympics postponed, we're throwing it back to the 2012 London Olympics where 12 University of Melbourne connected athletes including Chef de Mission rower Nick Green OAM and pentathlete Kitty Chiller AM as Deputy Chef de Mission. Our athletes collected 1 silver medal at the Paralympics and 3 silver and 3 bronze medals at the Olympics, nearly 20% of Australia's final medal haul! Medal winners included:
Victoria Brown -🥉water polo
Sarah Tait (dec) -🥈rowing pairs
Kim Brennan (nee Crow) -🥈rowing double sculls &🥉single sculls
Will Lockwood -🥈rowing four
Karsten Fosterling -🥉rowing quadruple sculls
Dylan Alcott -🥈wheelchair basketball

Activities for kids
We have compiled a list of activities and challenges for your children to stay engaged while being isolated at home. See below some different resources to get your kids active:
The Challenge is on!
We're uploading a daily challenge to our website that we encourage all children to participate in! Send in your photos and videos to go into the draw to win a FREE day of your choice at our July School Holiday Program.

San Diego Zoo

Had a trip to the zoo planned these holidays? Well, why not visit the San Diego Zoo virtually. Click here

Send us feedback
Want to see a specific workout on our timetable? Or maybe you have an idea for a fun online challenge? If you have any feedback for us, please contact us via the form below.
All data collected by Melbourne University Sport is in accordance with the University of Melbourne's Privacy Policy. For more information about the University of Melbourne's privacy policies, click here.