5 October; Originally posted by Football Australia
Melbourne University Soccer Club life member Maria Berry has been recognised for her contribution to football as part of Football Australia's 100 Years of Women's Football mural
On Friday, 24 September, Football Australia, in partnership with its nine (9) Member Federations, celebrated the 100-year anniversary of the first recorded public women's football match in Australia.
It was a match that was played in front of 10,000 people at the Gabba in Brisbane.
As part of the centenary milestone celebrations, a mural at the grounds of Football Queensland was painted, paying tribute to just some of the pioneers, trailblazers and game-changers who have contributed to the advancement of women's football in Australia over the last 100 years.
Designed to be a living piece that will continue to be expanded, the mural depicts contributors from all parts of the game who meet the criteria of Longevity: a sustained association with the women's game, Impact: a transformative contribution to progressing women's football and Achievement: having reached significant heights, created history, broken new ground or been recognised for strong accomplishments.
The mural has looked to recognise people from all parts of the game from grassroots to the professional level. National team players, coaches, referees, administrators, fans, volunteers and grassroots players are all represented through the design from co-artists, Sarah Sculley (mural artist) and Kim Walmsley (Mununjali artist).
"I was really excited to take on this project because it's not often as a mural artist that you get to make a real difference and to be part of the 100 years of women's football is huge," Sunshine Coast-based artist Sculley said.
"I feel very privileged to be in this position and I think it's really important to honour all people who have worked really hard, not just the players but the admin, the coaches, the crowds, everyone who has played a part in lifting up women's football to where it is now."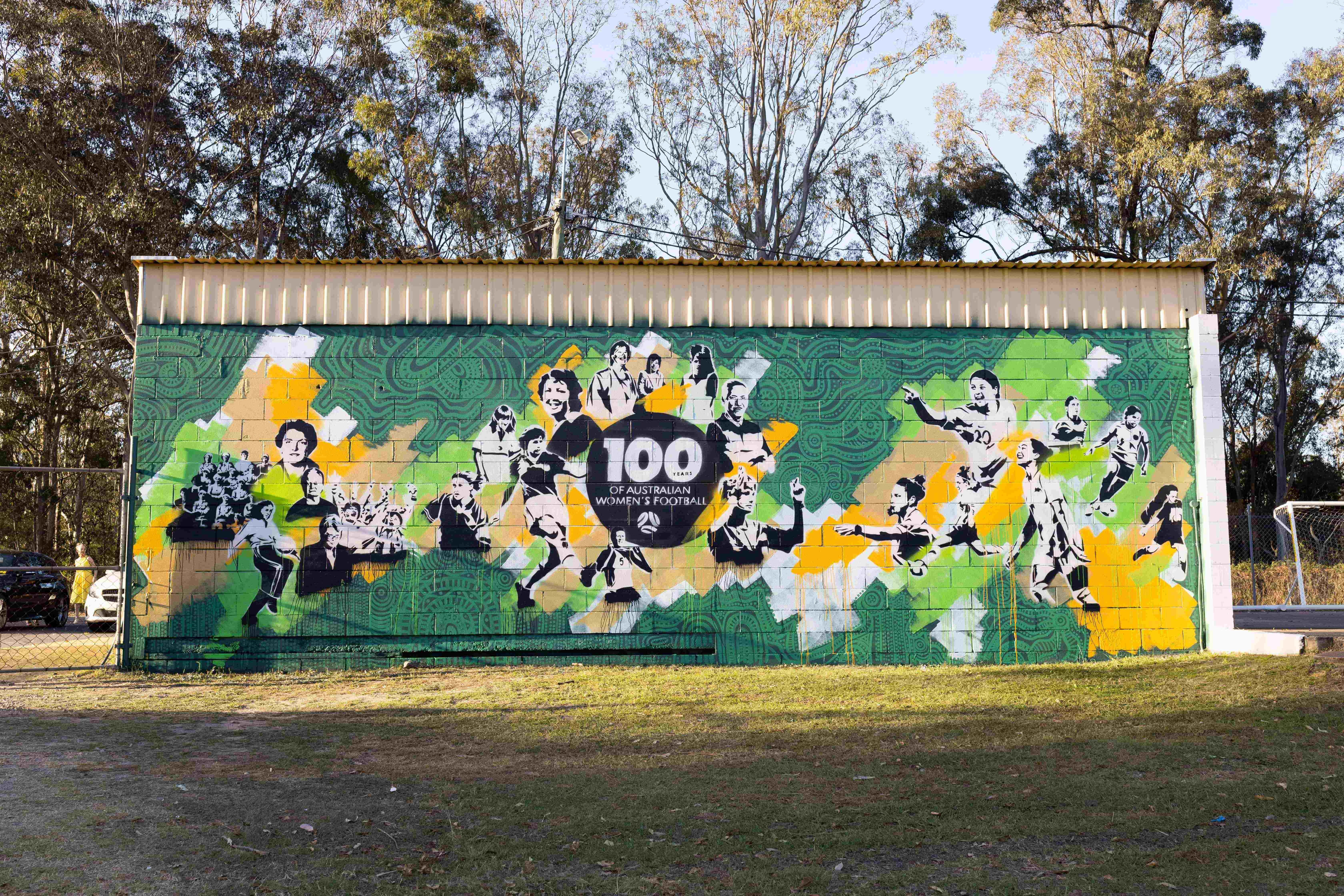 Proud Mununjali artist, Walmsley, designed the intricate Indigenous art that highlights the piece and further acknowledges the impact our First Nations People have had on the growth of women's football in Australia.
"The line work represents energy, movement and connection to Country along with the elements of water, fire, air, and earth," Walmsley explained.
"The green and gold represents the Australian wattle, it shows an Australian plant shining through and represents the women who have found positions of success.
"Having women playing football or any kind of male-dominated sport is adventurous and powerful."
Two of those depicted on the mural are former Matildas vice-captain, AFC vice-president and one of the first women on the FIFA executive committee, Moya Dodd and life member of Melbourne University Soccer Club and Team Manager and Head of Delegation for several Commonwealth Bank Matildas and Commonwealth Bank Young Matildas overseas tours, Maria Berry.
"Every generation stands on the shoulders of those who went before them. I did, and others do now," Dodd said.
"It's lovely to see that acknowledged across the whole game, including coaches, referees, administrators and all the volunteers who put nets up, drove kids to training and pumped up the balls.
"I'd also like to say thanks to all those who came after me - we've gone from being a bunch of small-time ratbags and misfits to Australia's premier women's sport!"
When speaking about what she's most proud of when it comes to her contribution to the women's game, Dodd's response is around the 'never say die' attitude of all involved.
"I'm most proud of our persistence across the true believers in the women's football community.
"We've had to navigate a lot of obstacles and indifference. At times it's gotten nasty - misogyny and homophobia can surface from those who find women's football scary. But with clear-eyed determination, staring down the doubters, we have collectively boot-strapped the game into an incredible position. That's the #persisterhood!"
Berry has played an active part in the advancement of women's football for over two decades. When speaking of her contribution to the game, she says she is equally as proud of the large shifts she's been a part of, but also, the impact she's had at a grassroots level.
"I've been very much part of a team at all different phases, that included grassroots level where I was involved as a local coach," she said.
"When I think about what I'm most proud of, it was great to be out there pitching for recognition for women's football in that really critical period just before the Atlanta 1996 Olympics and then leading through the Sydney 2000 Olympics.
"That was the time where there was this real shift where, because we got proper recognition from the Sports Commission, we then got the investment, the Olympic opportunity and the profile, so we were able to make that real change," she continued.
"But also, in the early 80s for example, a young kid was playing in my local club and I took her to state training every Saturday. That person went on to represent Australia so it's just as rewarding to have been a simple chauffeur helping a kid to live their opportunity."
When thinking about the future of women's football Berry shared that she wants to see football as the number one sport for girls and women in Australia.
"I hope that women's football is so ubiquitous that every talented athlete in Australia sees it as their first choice of sport, and that's because it's everywhere; when you go out on a Saturday to walk your dog and see all these girls playing football and you tell your niece for example.
"When you look up you see footballers represented in all those places where we see Australian sports so that it just is to so much part of the woodwork. If we have that, we will have the talented athletes, we will have the commitment and therefore we'll have a future where we'll see not just national success, but success all the way down."
Fans and a grassroots player are also included on the mural to recognise their important contribution to the growth of the women's game over the last 100 years and into the future.