During the recent Annual General Meeting, the Melbourne University Baseball Club (MUBC) voted unanimously to award former Club President Tom Andronas (Bachelor of Arts 2007) life membership recognising his significant contribution to the club as a player and leader.
Having joined MUBC in his first week at the University of Melbourne, Tom offered advice to students starting at university and looking to connect with others, make friends and grow their social base. Consider becoming involved with one of the University's sporting clubs.
"My advice to any student or alumni looking for like-minded people to hang out with, a team environment, a community, or a professional development opportunity is to get involved with one of the University's sporting clubs – it can be a life-changing experience."
Tom's love and passion for baseball are infectious. Starting out as a player in the team, he earned a collection of 2nd IX premierships in the B reserve competition while also managing the Club's 3rd IX for several seasons. Upon MUBC's 2nd IX re-joining the A-Grade competition, Tom retained his prized first-base position, serving the Club for almost two decades; impressively, Tom continued to represent the Club's 2nd IX while starting both a family and a business himself.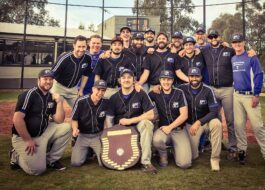 As President, Tom administered a significant expansion of MUBC. Against the odds, under his leadership, the club was able to retain much of its membership base through the challenging Coronavirus pandemic period with the introduction of new teams and 135 new players in 2022.
"I'm proud of the opportunity we've provided for hundreds of people, from beginners to elite athletes, to participate in baseball at their own level. During my time as President, the Club grew from five teams to nine, and watching people learn the game and enjoy playing it with their mates is what community sport is all about".
During Tom's tenure, he also led initiatives to strengthen connections with the Club's alumni network. The establishment of the Angel Investor Program led to donations that subsidised the purchase of high-quality equipment for all nine teams while being able to keep student-member costs to a minimum.
The former President explained how pursuits such as the Angel Investor Program and the Honour Boards project positioned the Club to "prioritise and develop the Club's engagement with both current players and alumni, fostering a culture of inclusion at the Club"; ultimately something that has proved crucial to realising Tom's vision of an interconnected and spirited community within the Club.
Tom's nomination was put forward by fellow life members James Dann and Steve Lehmann and supported by Megan Kelly.