27 August; Alex Ferguson

The Weary Dunlop Rugby Foundation continues to support rugby at the University of Melbourne with the donation of a $10,000 grant. This year, the grant has been awarded to the Rugby Club's to Karin Gunatilake (Doctor of Medicine), who is currently completing the final year of her medical studies.
The grant is named in honour of Sir Edward 'Weary' Dunlop, a University of Melbourne alumni (Pharmacy & Medicine) who, among many incredible achievements, became the first Victorian-born player to play Rugby Union for the Wallabies. Off the field, Dunlop served as a surgeon in the Australian Army Medical Corps during World War II, where he was captured and placed in a Japanese prisoner-of-war camp. However, it was during this time that his strong leadership and selfless commitment to aid the sick and wounded branded him "a lighthouse of sanity in a universe of madness and suffering".
It is only fitting that this grant be awarded to a student like Gunatilake, a keen sportswoman, member of the Melbourne University Rugby Football Club, and AON Uni 7s representative; aspiring orthopaedic surgeon; and an individual who embodies the personal qualities of perseverance, commitment, and integrity that Dunlop was renowned for.
An international student from Sri Lanka, Gunatilake was attracted to studying in Melbourne to gain "exposure to a multitude of sports, art and culture", as well learning in the world-renowned biomedical hub that is the Parkville precinct. However, this move to Australia also provided the spark for a real passion in Touch Football and Rugby.
"The physicality of the sport is strangely alluring albeit terrifying", explained Gunatilake.
"The rugby community is also incredibly diverse and being a part of it was a huge draw. I have had the absolute privilege of meeting some incredibly strong women who are trail blazers both in their dedication to the game, careers, and beliefs."
Unfortunately, the physicality of rugby would also prove to be a major obstacle for Gunatilake, who is still finishing her rehab after rupturing her second anterior cruciate ligament in September 2019. Despite this, she is optimistically committed to recovery, noting that the current COVID-19 situation has provided a silver lining.
"My physio has been adamant I rehab for a full 12 months so the fact that no one is playing any sport has made rehab less painful".
However, this challenge was overshadowed earlier this year by the sudden news that due to financial constraints, her parents would no longer be able to contribute to her student fees. As an international student, Gunatilake was unable to access any of the FEE-HELP, bank loans, or financial support available to domestic students to assist her in paying the $88000 required to complete her final year of study. Already working a 20-hour week on top of her full-time medical studies and involvement with the rugby club, Gunatilake took an even bigger hit when COVID-19 brought Victoria's economy to halt.
"I work in hospitality, so the pandemic has gutted the whole industry, but it has been a valuable lesson in adaptation. I genuinely miss having to make 10 different cocktail orders and chefs yelling about dietary substitutions."
With the support of her classmates and teammates, Gunatilake has sought out other avenues to raise money for her schooling, including a GoFundMe page, and fundraising events in the medical school and broader community. The recent news of the Weary Dunlop Foundation grant has been a huge sigh of relief for her.
"The scholarship has made a considerable dent into my fees. Considering that deferring my final year was looking like the option in January, I am beyond grateful that graduating on time and starting my medical career is looking possible now."
Gunatilake also praised the support of her teammates and friends in helping her deal with these challenges, especially while living away from home.
"Touch football and rugby have been the main contributor to my support network. I have met some incredible people through sport, and they have become my housemates, mentors, work colleagues, boss, and lifelong friends. I think that's the great thing about team sport, you maintain that comradery on and off the field."
Exemplifying Dunlop's character, sporting prowess, and medical background, Gunatilake has demonstrated incredible drive and commitment to overcome very challenging circumstances. When she received news of this award, we asked whether she had heard of Dunlop and his achievements before:
"I had actually! My mother was terrified I would injure myself playing rugby, which I did, and I wanted to find a connection between medicine and rugby to give an example of the benefits", she explained.
Sir Edward Dunlop was an incredible individual and his resolve, actions and beliefs are truly admirable qualities. To be part of the Weary Dunlop Foundation is an honour and I hope to emulate those qualities in my future endeavours."
Karin Gunatilake is on track to complete her Doctor of Medicine at the end of 2020. She plans to apply for Australian citizenship after graduating and is aiming to train as an orthopaedic surgeon.
If you wish to support Karin by contributing towards her student fees, please contact Jason Jones, the General Manager of the Melbourne University Rugby Football Club.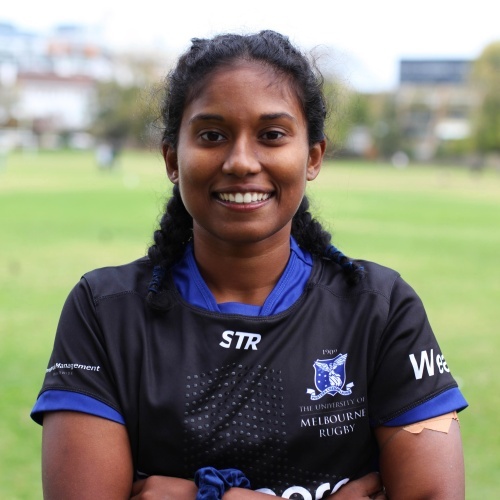 image: Melbourne University Rugby Football Club.