2 April 2020; Tony Sephton, Head Strength and Conditioning Coach
Head Strength and Conditioning Coach at the University of Melbourne, Tony Sephton, explains how the move online has helped student-athletes maintain fitness routines in isolation.
Since the University of Melbourne became a virtual campus, Melbourne University Sport has been working hard to stay engaged and connected with our student-athletes.
The Elite Athlete Program has moved completely online with two Zoom classes a day, three times a week.
We have created an online portal specifically for our Elite Athlete Program members. This enables our student-athletes to be fully connected to our staff whilst we are away from campus. The portal provides information regarding the online workout timetable, mental health and wellbeing support, online class videos and exercise instructional videos.

Catriona Bisset, National 800m Record holder and Master of Architecture student, training from home via Zoom with Tony Sephton.
The focus of our program is engagement, connectivity and fun, and Zoom is providing the perfect platform for this. We have a 15 minute catch up before the session starts, train for 50 mins, stretch down for 10 minutes, and then give feedback to each other on how the session went and how we are all coping in isolation.

We have also planned a virtual coffee club, where we use Zoom to check in with each other over Melbourne's favourite beverage.

"I really enjoyed doing the sessions in a group meeting, it's great being able to work out with the others," said Jessica Graham, Bachelor of Science student and tennis and squash player.

Australia representative ultimate frisbee player and Doctor of Medicine student Adelaide Dennis agreed.

"I really enjoyed the group work out! Made it fun. I'd love to do more of those sessions," she said.

We will soon launch our individual programming templates, where athletes will be able to select their exercises based on the equipment they have at home. This concept provides the best level of flexibility and instruction, because each program has clear guidance around reps, sets and load, as well as featuring a video for each exercise showing how to safely execute the correct technique.

It has been a challenging time for all, but having an open mind at this time has been critical. The program is different and the coaching format is different, but the engagement and positivity has been heart-warming. The aspect I have enjoyed most is realising we are building our athletes with robust bodies as well as their minds.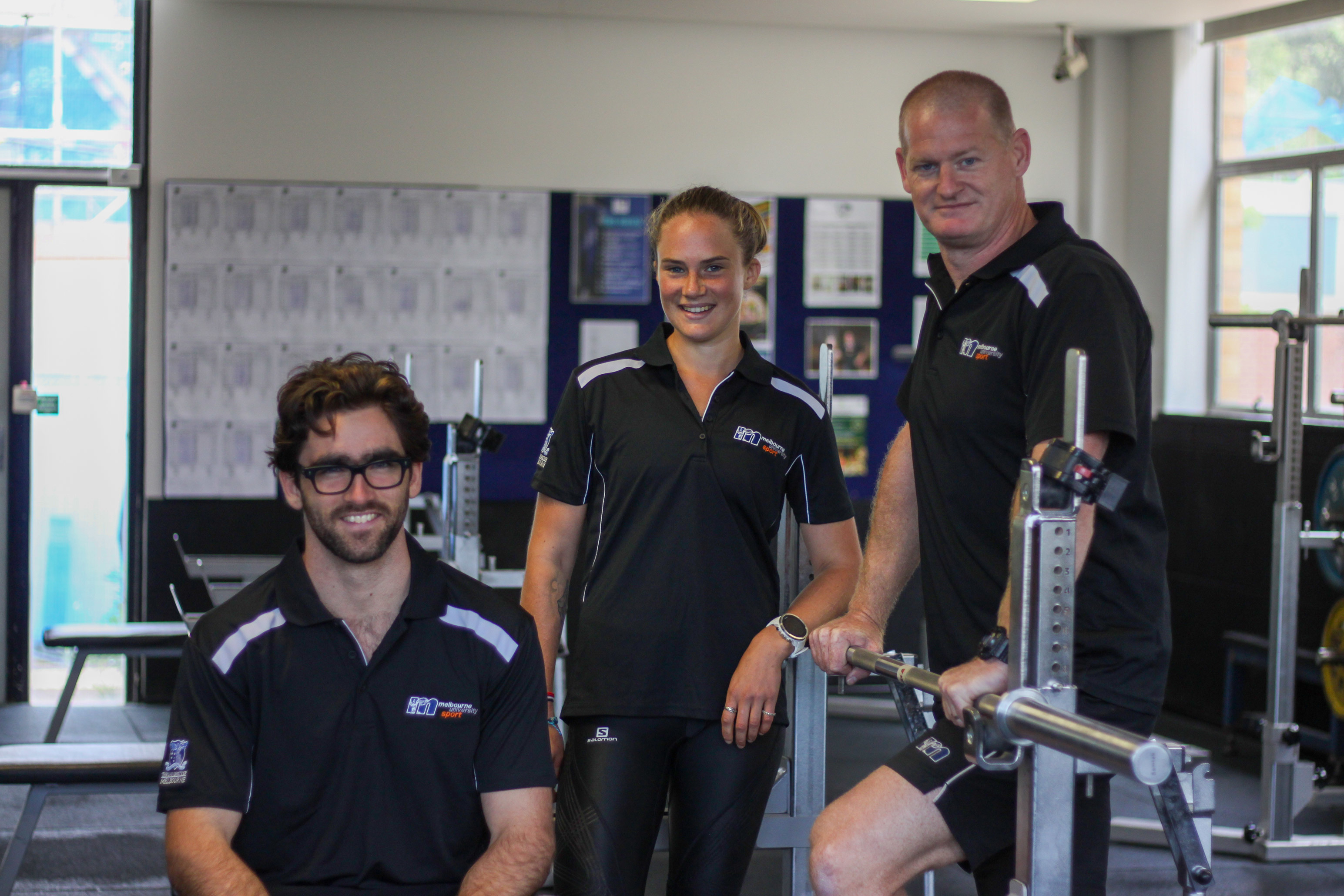 (L to R) Elite Athlete Program Strength and Conditioning Team Isaac Smith and Simone Brick and Head Coach Tony Sephton, before the program went online due to the COVID-19 pandemic.