12 March; Liam Petterson
Bachelor of Biomedicine student Jordan Cransberg has been elevated to the Melbourne Vixens squad in Suncorp Super Netball, Australia's premier netball league.
The third-year student has been playing with Melbourne University Lightning in the Victorian Netball League since 2014.
She impressed in the inaugural Vixens Academy, which saw nine up-and-comers train in the elite system known for having produced stars such as Jo Weston, Bachelor of Commerce graduate and MU Sport Board Member.
"It's super exciting but also quite nerve-racking – playing and training with players of such a high calibre," Cransberg said.
"But mostly just excitement about the amazing opportunity... that I get to be around amazing people that I can learn so much from."
Last year she achieved the rare feat of winning Full Blues in two sports, netball and basketball, after dominant performances at University Nationals Div 1 and in the intervarsity 'Big Blue' against Monash.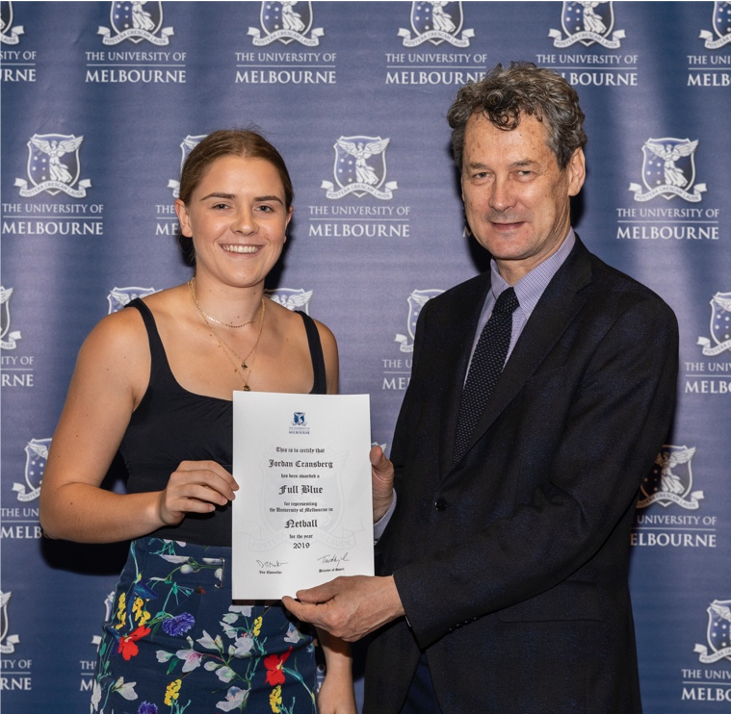 Jordan Cransberg was awarded a Full Blue in both netball and basketball at the annual Blues and Sport Awards in 2019. Photo: Tobias Titz
In 2019 she was a member of Victorian Fury which took out the Australian Netball League championship, while in 2017 she was awarded U19 Most Valuable Player in the Victorian Netball League.
It hasn't always been an easy journey though.
After her milestone first season with the Victorian state U19 team, a season-ending knee injury saw her miss a year of netball. Only months of hard work and determination have got her back on the court.
The 20-year-old credits the strength and conditioning team at Fury and the support of MU Lightning with her recovery.
"I'm feeling probably the best I've felt in a long time, mentally and physically."
The Vixens will face Collingwood in a pre-season bout on Sunday 5 April in Ballarat, before Round 1 gets underway on Saturday 2 May.
Follow Jordan's journey with the Melbourne Vixens here.