25 November 2019; Alex Ferguson
Saturday saw the Boat Club compete in the Melbourne Head Regatta, where 14 1st place results were posted in a variety of different boats. In addition, MUBC participated in the Pride Race, with a mixed crew showing off their fantastic new Pride zooties as they raced down the Yarra into 2nd place.
The Premier 1st XI Men's Cricket team played the second day of their match against Kingston Hawthorn on Saturday, winning by an impressive eight wickets thanks to the excellent batting performance of Fergus McKenna (Juris Doctor) with 164 not out. McKenna's performance was complemented by Harrison Emms with 65 runs, as well as James Bett, who took five wickets the previous week to set up an easy target for the team.
The Men's Futsal State League 2 team narrowly defeated Northcote FC 8–6 in a tight match. This win keeps them on top of the ladder as they head into the second half of the season, two wins ahead of the second place FC Balwyn.
The Athletics club also had a successful weekend at the Victorian Relay Championships with the a 2nd in the Women's 1600 Sprint Medley Open, a 3rd in the Women's 4x100 metre Relay Open, and a 3rdin the Mixed 4x400 metre Relay Open.

It was a big weekend of finals for the Touch Football teams, but unfortunately both the Men's Div 1 and 2 and the Women's Div 2 teams were beaten in their semi-final matches. The Div 1 Women's team defeated Melbourne Phoenix 5–3 in their semi-final, moving onto a grand final match against Melbourne City Lions.
The Men's Water Polo SL2 team had a bye this week, but head into their last home and away season match in 2nd place, their strong performance during the year guaranteeing that they will finish 2ndoverall on the ladder.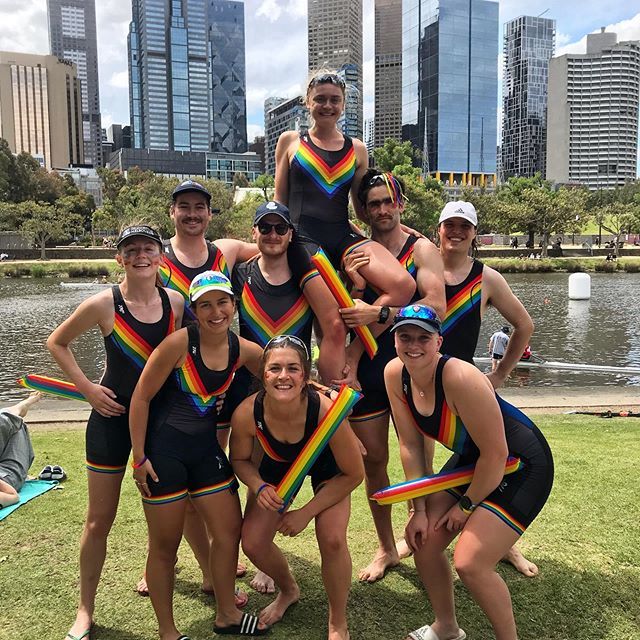 Rowers from MUBC showing off their zooties in the Pride Race at Melbourne Head
James Bett celebrating a very successful day of bowling against Kingston Hawthorn with 5/45.