16 March, Rod Warnecke
Joel Rimes (Doctor of Philosophy) and Bella Renton (Bachelor of Science) will lead the University's men's and women's University Basketball League (UBL) teams for season 2021.
After months of training, and the cancellation of the inaugural 2020 UBL season, the University's teams for the re-booted competition have been finalised.
Rimes said it was great recognition to be selected as captain of the men's UBL team.
"To be recognised as the first-ever captain of Melbourne's first men's UBL team is a huge honour, and responsibility, he said.
"I been playing for the Uni since 2014 and to now be playing in a national university league is really cool", he added.
"We've got a young team this year, and one of the most committed coaches (in Bob Mann) that I've played under. And we're all really excited to get the season started".
Women's coach Rob Roberts said it was a little difficult to finalise his final squad, having had no local domestic basketball in 2020 to review and relying on disjointed selection trials and training program due to COVID-19.
"Victorian basketball's a little behind other states in that our Big V competitions were cancelled in 2020 due to the pandemic", said Roberts.
"But at the end of the day, that just hopefully makes us a little more hungry for on-court success come game-day", he added.
In naming the women's UBL captain, coach Roberts saw Bella Renton as the natural leader of the team, given her previous experience playing with the Melbourne University Basketball Club in the Big V competition. And Renton was humbled to learn of her selection as captain.
"I'm really excited. It's a brand-new competition and we're not sure what to expect. But that's the exciting part. And of course, I'm very honoured to be captaining the team" said Renton.
Acting Sport Performance Coordinator Larissa Payne was excited to see the University's men's and women's teams announced for the game-changing intervarsity sporting opportunity.
"Interstate travel, live-streamed games and a home-court experience for students on campus. . .this is the brave new world of intervarsity sport", said Payne.
"Besides being a great opportunity for our student basketballers, we're also excited to provide a fun, exciting and entertaining experience for those students that come along to our home games", she added.
The Faculty of Science has the most student-athletes across the UBL squads, while 17 student-athletes are undergraduates and ten are studying postgraduate courses.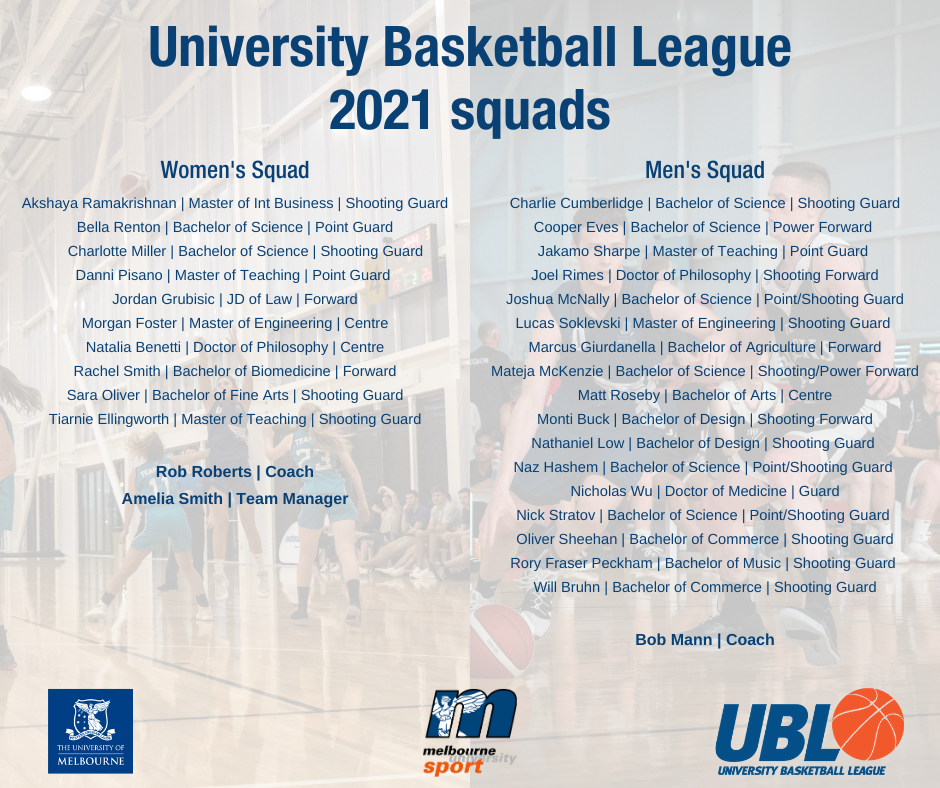 The season is due to tip-off on Tuesday 13 and Wednesday 14 April with games played mid-week until a four-team finals series between 24 – 26 May. The University of Melbourne will play its home games in the Nona Lee Sports Centre.

To keep up to date with all things UBL and the Melbourne University teams, visit the Intervarsity Basketball home page here.